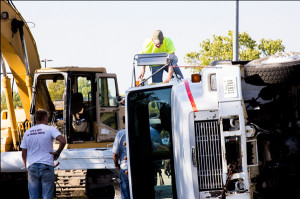 By Megan Miras.
Two DMACC grounds men employees were injured Friday, Sept. 27 due to a boom truck tipping over. "One guy had a pretty bummed up lip" grounds employee and DMACC student Justin Free, 19, from Glitten said. "The other guy had a hurt shoulder [because] he was pinned against the curb."
The crew was installing cameras on a light pole by the South entrance. "Outrooters [which keep the truck balanced] were out on the left, but not the right" Free said. "The truck took a 180 [degree] turn and the wind took it down".
Only minor injuries were reported from the accident.
"911 was called by a bystander and Ankeny Fire and Rescue responded. There were two men in the bucket that had minor bumps and bruises," said Director of Campus Safety and Emergency Management Ned Miller in an email.  "They were taken to the ER as a precaution to be checked out and were released later Friday afternoon."
Free arrived to the scene about 1:30 p.m. by which the Fire Department was already there. The South entrance had been blocked. By about 5 p.m. one lane had reopened. Both lanes of the South entrance did not reopen until about 11 p.m.
According to Bureau of Labor Statistics, in 2011, 66 deaths were related to boom truck accidents.