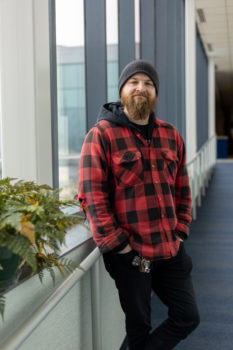 With almost three million views, 27,000 subscribers, and coming on their fifth year of content, Gaming Off The Grid is a YouTube channel run by DMACC student Robert Zortman, and his friend, Wes. They started the channel in April of 2018 and have been seeing success since. 
So how did they become content creators on YouTube?
"It started because we like couch co-op gaming, and that's kind of dead in today's current market," Zortman said.
He met his channel mate, Wes, when he saw his band was looking for a bass player. They both enjoyed gaming, and Wes even had a room in his home dedicated to it. So, from there the idea for a YouTube channel blossomed and they began filming. 
"Now it has kind of taken over and the band has stopped; it's kinda crazy how it's all connected," Zortman said.
Their most popular video, XBOX Buying Guide, has 68,000 views and takes viewers through whether buying an original XBOX is worth the money. But they do a wide variety of content.
"It goes all over the board, some weeks it will be retro stuff, some weeks it will be modern, some weeks it will be game hunting and flipping," Zortman said. 
Zortman feels like their wide variety both hurts them and helps them, but throughout the years they are able to change and grow. They used to post every day, but with time they learned that quality is better than quantity and now they have stuck to a biweekly posting schedule along with two live streams a week.
This doesn't mean less work though. They still spend around 40 hours a week making and editing videos and content, with each video taking at least a couple of hours to edit. Luckily, they do get a little bit of revenue, but Zortman says not enough to live off of.
Being a YouTube creator does have its downsides, although most of the reaction to their channel is love, along with everything else on the internet they get some trolls.
"Now we just fight them with kindness, which usually makes them more upset," Zortman said.
In the game room, they have and actively use almost every game console, and use multiple televisions. But Zortman has a soft spot for Sony PlayStations.
"I think my favorite [gaming console] of all time has to be the PS2, just because the library is insane and I grew up playing it," Zortman said.
Zortman just started his first semester as a video production major, though this is not his first semester at DMACC. About six years ago he came here for carpentry and pursued that as a career but decided to focus more on the channel. He realized that he was loving where the channel was going and wanted to make it a full-time thing.
"I think the goal is to do creative stuff," Zortman said.
He hopes that their channel will encourage viewers to go out and game, old-school, because gaming online is not the same as sitting down with your friends in person and talking smack.
"Bring that experience back because you can't beat it," Zortman said.
Something very important to their channel is a livestream that they do every September on YouTube. It is a 24-hour charity livestream that they do for Children's Cancer Connection, which is an organization located in Johnston, Iowa that helps families affected by childhood cancer. Last year they raised over 10 thousand dollars, and in the past four years of doing this they have raised over $22,000.