Pokemon Go was the big thing last summer to get people outside and enjoying the weather while getting some exercise. Another hobby that has its similarities to Pokemon Go has been around for a long time, GeoCaching. Using a GPS system previously purchased as a separate device but now built into all smartphones, you can find your goal or "cache" by following locations marked by coordinates all over the world, including a nice amount of them in DMACC's hometown of Ankeny. According to a FAQ on Geocaching.com, there are more than 2.8 million geocaches waiting to be found in over 180 countries and approximately 3 million active participants worldwide.
Before anyone can find a cache, someone leaves a waterproof container with a logbook with a pencil along with any other trade items in a semi-hidden location that it won't be found by the average passerby. Then they get the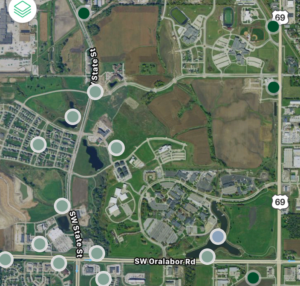 coordinates of the location and post them on a listing site. Often the trade items are just knick-knacks that can be traded for something of a higher or equal value by anyone that finds the location.
Once the location is on a listing site, it's often indexed by apps used on smartphones like the GeoCaching app developed by Groundspeak. We used this app for this article. And then the adventure begins. Geocachers will open the app and see what is around them, often wandering around like Poke-Players were and still are in public parks, shopping malls and even places like the Las Vegas strip.
While the basic service and apps are totally free and can cover you for finding hundreds if not thousands of locations/cache's around Central Iowa, you can upgrade your experience for around $5 a month. The upgrades on the app allow you better searchability of geocache's around you, lists and downloads, trail maps and other features.
One might think that sometimes things get stolen from the cache's, and that's why the contents are usually of little value, more than the logbook that everyone is supposed to sign and date. According to Wikipedia, if a geocache has been vandalized or stolen, it is said to be "muggled" and is reported back to the community through the indexing sites.
So to get started, find some different locations around town that will involve some quality time walking and exploring. Invite your significant other on a date to do some exploring outside and maybe hide a gift for them at the third or fourth stop on your adventure related to where you are taking them out to dinner.