By Jesse Garwick
The photography program has moved studios and classrooms across campus to Building 18, expanding the classroom and studio space for a better work area for the program's growing student population.
Since the program's establishment in 1989, it has been located in a few spread-out rooms in Building 3. This setup kept the program in one building, even if the room locations were a little broken up.
Dave Purdy is the photography program chair. "The whole room arrangement wasn't very efficient: it seemed a bit 'chopped up.' There were around seven rooms and only five were usable for daily teaching" Purdy said.
The previous location allowed them space for a couple Mac labs, one studio, a makeshift studio, a couple classrooms, and a darkroom. Their new location affords them quite a bit more space: it has three large rooms for photo studios, two Mac computer labs that are also used for classrooms, several storage rooms, and rooms for instructor offices.
One of the new studios will eventually be shared between photography and the new video program.
The classrooms each seat around twenty people, and one of them includes eleven HD monitors plus a big screen monitor for improved demonstrations from the instructors.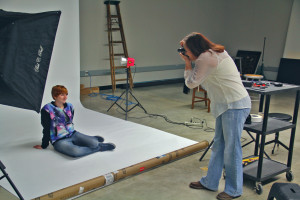 "It is a great learning environment where technology and digital photography go hand-in-hand," Purdy said.
The rooms in Building 18 were previously used by continuing education. Those classes were relocated to the Southridge campus last fall, which opened up the building for the expanding photography program.
The move provides both positives and negatives for some students. Andrew Tressel, of Ankeny, 19, is a student in the program. "I like that there is more space to work with, but I don't really like the fact that it is farther away. My classes used to be centralized and near the student center area, but now I have to go across campus to get to my classrooms," Tressel said.
Building 18 is a bit more of a walk, and that is a small downside to the relocation. Brandon Harrington, of Biloxi MO, 29, is a student in the program. "It's great to have our own space and not have to share it, but it is slightly inconvenient to come all the way here when an assignment requires bringing someone else in." Harrington said.
The relocation does provide a bit more walking distance from the student center, but it also helps to bring the program closer to the other digital technology programs, such as graphic technologies, web development, video, and graphic design.
The old space in Building 3 still has a couple black and white film classes in it, but after the summer semester those classes will go inactive.
In addition, other programs are expanding and will be able to use the extra space. Currently the robotics and the Industrial Electro-Mechanical Technology (IEMT) programs plan to expand, most likely, into the old photography rooms.
"There's nowhere to go but up, as they say," Purdy said. "I think that having more studio space and Mac labs sets the program apart, and makes it one of the best in the state."
This relocation may confuse some students if they don't know where to find it now, but it helps the program keep up with the industry and provide better tools to succeed in the program.