If you follow my columns, you know I have a career outside of being a student at DMACC.  I have been a DJ for the last 25 years entertaining at approximately a thousand weddings, and probably another 500 parties/dances.  I also publish a trade magazine for such DJs (Mobile Beat – mobilebeat.com).
I would recommend that you hire a DJ for an event with more than about 50-75 people.  For such events, you are in need of the MC duties and organizational job of a good DJ .  This goes beyond picking the music and sliding them together in the right mix.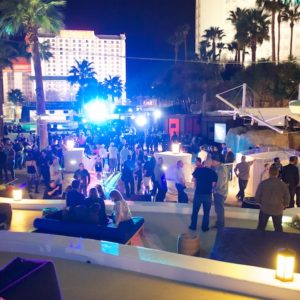 But over the last 25 years I have seen many people that didn't need the services of a professional DJ to "rock their party."  And in the last couple years it has gotten even easier to do so with tools such as digital Dj software, iTunes, and music sources like Pandora, Spotify and Soundcloud.
Start Out With Prep – If you have a theme event, musical choices should be more obvious.
But when you do an invite on Facebook to the event, why not put up a way for people to request tunes in advance.  Give people some guidance as to where you see things going.  Keep in mind that not everyone's favorite music works well in the scene you are trying to create.
Musically, you can either go and buy the songs that are requested in advance through iTunes, adding to your personal library, or use one of the streaming services that are out there.  Pandora, Spotify and Soundcloud all have free and paid services that will serve you well should you only be doing this every once in awhile.
Pulselocker, another service similar to the others already mentioned, even integrates into many DJ software programs and has tons of tracks that you can use.  A basic account only costs $10/month with an expanded account at $20/month.  You will find that they will supply about 90% of the tracks you want, and for those they don't have, just buy them and you are set.
DJ Hardware – This is where you can spend some money and really do it well.  If you are regularly planning on having your group of friends over for parties, or you have quickly established yourself as the Go-To-DJ of the group, invest in some nice basic powered speakers so you don't blow up your home speakers.
American Audio's ELX15A with a street price of under $200 each are fantastic, or for another $150 each, the Electro-Voice ZLX-12P speakers would be considered professional DJ speakers.  Both sets of speakers can take your audio cables plugged right in the back of them from a laptop or tablet using a ⅛" to Dual RCA cable.
To step things up a bit, buying a basic mixer will allow you to handle the mix of the music better.  More DJ Mixers now come as controllers that will interact with the software installed on the computer such as PCDJ, Virtual DJ, Pioneer RekordBox or Serato DJ.  The controllers are usually paired with a software program so your choice in one becomes the choice in the other.
Such controllers can run as low as $70-$100 for the ADJ ELS1 / Numark Party Mix or up to $2,000 to reach the level that high-end DJs are rocking with.  Good examples are products from Pioneer, Denon and Numark.
A sweet spot on these controllers is around $400, and if you want to get something that goes nicely beyond just playing music through your laptop and letting the music service do the work for you.  For this article, I visited NLFXPro.Com, the website for NLFX Professional, a DJ equipment dealer I do business with regularly.
Actual Rocking of the Party! – When it comes to the party, either you are personally DJing through the night, or have other commitments such as being a host/bartender that will pull you away.  Either way, you need to prepare.
Having prepared sets of different styles of music in a playlist system will make operating your DJ show go smoother.  Prepare sets in the term of 12-20 minutes of each style of music.  Anything beyond that and you will get stuck in a rut and so will your party.
For instance, at the beginning of the night, you might want to have more a somber groove with some classic tracks and other tamer stuff.  The middle of the night is prime time for the party, some fast sets of different styles, like pop, r&b, rock and rap.
Having two sets of each style ready to drop in to "auto-Dj" would be fantastic.  And later in the night after some of the craziness has faded, you could possibly play some sing-a-longs, "chill-with-your-drink" kinda music to wrap it up.
If you are interested in more resources for DJing, please check out MobileBeat.Com and all it has, especially the Top 200 chart to build your playlists.
Good luck, and keep the sound under control to avoid your non-invited neighbors from calling the cops.