By: Ryan C. Meier
You may not recognize the names of Glenda Johnson or Shirley Sandoval, but you know their work.
Received a phone call because class was canceled? That was Glenda on the other end telling you.
Looked at the fall schedule for next year? That was organized by Glenda and Shirley.
Gotten an email asking to submit your work study hours? Glenda sent that out.
Had some sort of issue about a mathematics, English or science class? Shirley and Glenda were who you probably talked to first.
Whether you know it or not, if you are enrolled at DMACC you have benefited from their hard work.
"They are the voice [of DMACC]. I bet every student has had a message from them," Associate Dean of Arts and Sciences, Doctor Kari Hensen said.
Glenda and Shirley, administrative assistants in the Arts and Sciences department, have worked at DMACC 30 and 38 years respectively, will be retiring at the end of June.
Retirement hasn't even started and both are already hoping for a second-stint on campus.
"I would love to be able to come back and work on a temporary basis. That's how much I love it," Glenda said.
"The day that [former Dean of Arts and Sciences] Burgess Shriver hired me [for this position] was the best day of my career," Shirley said.
"We call them the Queens or Empresses of our department because they run everything," Dean of Arts and Sciences Jim Stick said.
"They are the nerve center," Alan Hutchinson, District Chair of Humanities said.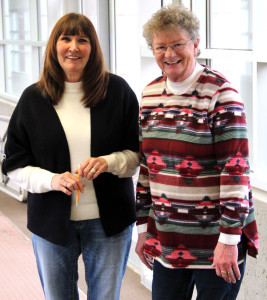 "They are our mothers; we expect them to know how to fix everything," Spanish professor Mary West said, "and they do so with so much grace."
When Professor West first came to DMACC eight years ago, she found Shirley to be very welcoming. For a department as diverse as the Arts and Sciences, that is important.
"I've seen her repeat that over and over; welcome and integrate [new staff members] into the department," Professor West said. "She's as helpful as anyone I've ever come across for someone taking a new job."
For English Professor Doctor Will Zhang, his appreciation of Glenda and Shirley goes beyond simply always having an answer. Over winter break in 1999, he had returned to his home in China to visit his family and pay his last respects to his father and at that time was not yet a US citizen.
While in China, there was some political unrest and his return to the United States was suddenly complicated. DMACC documents were needed for Doctor Zhang to leave China.
"We had to go through a lot of paperwork just to get him home," Shirley said.
"Glenda gave up her time on Christmas Eve to come to the office and fax those documents to me. To this day, whenever I am teaching classes or [working] with students, I remember that I am here because of Glenda and Shirley," Zhang said.
Glenda and Shirley's devotion to DMACC extends beyond the staff.
"They have an incredible empathy and sensitivity towards students. I've seen Glenda walk [with] a student if they can't find a class. She doesn't just point. She will get out from behind her desk and she will walk them there, even if she has five thousand other things she needs to do,"  English professor Judy Hauser said.
"Sometimes she'll take a student to a person she knows and asks them to take care of this student. She knows that sometimes [the student] may not go. They might need a counselor or financial advice. They know who to take them to," Dean Stick said.
"They are the first line," said Randy Smith, district chair for math and engineering.
Being on the front line may not always be easy, but it carries a certain responsibility and both Glenda and Shirley realize that.
"You see a student with troubles and you don't want to shy away from that. Listening is what is important." Glenda said.
"Sometimes students come in to meet with us and are very upset, but by the time they've talked to Glenda and Shirley, they no longer need to meet with us. Glenda or Shirley have figured out a plan or worked out their options with the student," Hensen said.
"I think they've had a tremendous impact on students and [Glenda and Shirley] may not even know," Dean Stick said.
As the days remaining at DMACC winds down, does Shirley have any last thoughts for her colleagues?
"Which day of the week?" she deadpanned, to which both Glenda and Shirley broke out in laughter. There was a quick follow-up with, "the best part of being here is them. We do a lot to try and help them and it's just been a pleasure to work for them."
"They're like family," Glenda said. "It's an open door policy. They can come in and visit. It's not a rigid workplace."
"They'll come in and tell us something about their family or tell us a funny story; I couldn't ask for a better group of people to work with," Shirley added.
The faculty knows and realizes this and the appreciation is mutual.
"Their smiling faces always make you feel better," Smith said.
"DMACC has been a great place to work and a big part of that has been Glenda and Shirley," Hutchinson said. "It'll be awfully big shoes to fill."