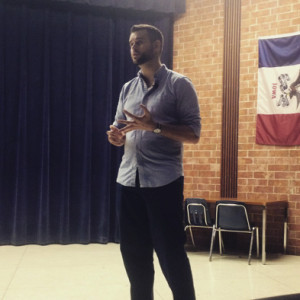 This past Wednesday, Sept. 23, LGBTQ rights advocate and author Zach Wahls spoke on the DMACC Campus.
The son of a same-sex couple, Zach burst into the public eye in 2011 when a video was uploaded to Youtube of a speech he had given at the Iowa House of Representatives.
The unexpected and explosive media response dramatically altered the trajectory of his life and he uses that defining moment as the centerpiece of his public speaking appearances.
As part of his address to the audience of DMACC students and staff, he recited his now infamous three-minute speech with the same passion and conviction that he did on that winter day four years ago.
He explained that he'd written his speech the night before and that a stranger with a flip-cam was the one to record and upload the video that would have every major news outlet and television program in the country, including The Ellen Degeneres Show, calling him non-stop just a mere 30-some hours after stepping away from the microphone.
He used this rapid sequence of events to drive home the point that people can never know who may be recording what one is saying or doing, and that one's life can be unwillingly transformed in an instant.
It is clear that Zach is deeply dedicated to the cause of equal rights for the LGBTQ community and he has used his sudden and unprompted notoriety to fight for positive change.
He spoke about Scouts for Equality, the organization he started to end the ban on gay leaders and members of the Boy Scouts of America, and grinned widely when he informed the audience that they had succeeded in their task.
He has begun compiling a collection of letters written by the children of LGBTQ parents called "The Rainbow Letters."
And, most notably, he has written the bestselling book, "My Two Moms."
Zach stated that, even though the Supreme Court has made it's ruling in favor of same-sex marriage, the fight for equal rights is nowhere near being over.
He cited the story of Kim Davis, the county clerk in Kentucky who recently garnered media attention for defying a federal court order by refusing to issue marriage licenses, as an example of this continuing struggle.
At the end of his talk, Zach opened the floor to questions from the audience. A wide range of topics were covered, but an interesting conversation began when a woman asked a question regarding the transgender community and the struggle to be accepted by disapproving family members.
Zach spoke candidly, saying that he didn't have any great advice beyond the fact that it "takes time."
He used his familiarity with a less-than-accepting selection of family members as an example, attempting to offer some comfort in the idea that those who struggle are not alone and should not give up.
Zach explained that he'd soon be winding down the Scouts for Equality organization and would begin looking for his next big project.
He may not yet know what that new adventure will be but if his impassioned public speaking appearances are any indication, it will be something that selflessly pushes the ideas of acceptance and tolerance further into public consciousness and something that will facilitate a more positive, inviting world.