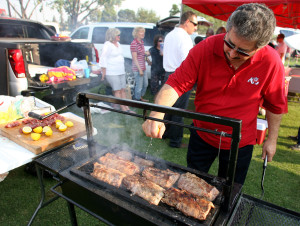 By Avis Allen
I have recently learned that tailgating isn't really about football. Oh, don't get me wrong, football is the reason we tailgate, but tailgating is NOT about football.  Tailgating is about fellowship, food, partying, and more food.
"It is kind of like a religion.  We all meet at a place, usually a parking lot, with our grill, coolers, and all wearing clothes similar to each other.  Some come prepared for war, wearing of the tribal colors and painted faces.  Some are more jolly ole souls who are ready to belt out their anthems in song.  Some just show up for the food and beverages," one young man said.
Not once did I hear that they go tailgating just to watch the game, or just hang with friends. True tailgaters treat the party like a competition and try to boast the most elaborate setting possible. This may mean bringing half the living room to the parking lot or packing a truckload of camping furniture. Extra points are awarded to those who combine the comforts of home with support for the team in the outdoors.
Every person, male and female, that I asked what tailgating meant to them, three words were clear.  Friends.   Food.   Beer.  Simple enough one would think.  Right?  Well…I was wrong!
I, of course, want to talk about food: what kinds, how much, and where to purchase it.  A good tailgating menu should have snacks, sides, main dish, and a dessert.
Snacks
Try to avoid the need for utensils. Chips and dip, tortilla chips and guacamole, are always a good place to start.  Either you can make your own, which is better but can turn quickly, or you can get the prepackaged kind at the grocery store.  You can get a healthier snack by chopping up some vegetables like carrots and celery with hummus.  Make some wraps, just about anything can be turned into a wrap, and cut into bite-sized pieces.
Sides
You might need to use a fork with these. Making a simple pasta salad or potato salad are great sides to go with grilled hamburgers and hot dogs. A healthier option would be a fruit salad or just some sliced fruit.  Little smokies work great, wrap them in bacon,  and dip in some sauce.  You can always go with a theme also.  Wontons, eggrolls, bread and cheese, are some popular items.
Major food
You can go simple with grilled hot dogs, hamburgers, brats, chicken, and steak. If you want to get a little classier, use beef or chicken kabobs. Chili cook-offs are known to happen.  Remember the crowd wants MEAT!
Dessert
No one will require you to whip out a three layer chocolate cake or a crème brulee from the back of your car, but having something sweet to munch is always expected.  Cookies, brownies, fruit and anything chocolate are simple and easily shared.  You could also serve a homemade trail mix.
No matter what food you come up with try to keep your portions a little smaller so there is minimal waste.  Always remember food safety.  Tailgating is a leader in the food borne illness category.  Watch for signs of foodbourne illnesses. If a deal looks too good to be true, it almost certainly is.  Check the quality of the label on bottles, and always opt for branded versions where possible.  Look for any seals or caps that are broken.  Remember hot foods should stay hot and cold foods should stay cold.