Spencer Christian
How did you get your start as an "influencer"?
I started MyCasualLife on Instagram over 4 years ago as a hobby and creative outlet for men's style. I definitely don't see myself as an 'Influencer' because that was never my intention or goal. Instead, I prefer to think of myself as a content creator. I work on an outfit or a layout and then share it with the internet.
How much time do you put into writing a post/ posting a photo?
Instagram/blogging can definitely be a full-time job and many of the people I follow on Instagram make a living from it. I don't put in nearly as much time as they do with their accounts and blogs. I would say on average from layout, shooting, editing, and uploading I spend about an hour or more on each photo. Most of my time on Instagram is spent interacting with other creators and finding inspiration for my own life; I spend several hours per day on Instagram that way.
Was it easy getting started as an "influencer" while living in Iowa?
The beauty of Instagram and blogging is that you can start anywhere, even in the middle of the country. Granted there aren't as many men's style bloggers in Iowa so that makes networking harder. The only other downside is that most brand events take place in larger cities such as Los Angeles or New York so I always have to pass on those. That being said, I don't think getting started in Iowa is any easier or more difficult than anywhere else and it has definitely been a positive experience for me.
Do you have any advice for up and coming "influencers"?
Getting started on Instagram isn't as easy as it used to be. Instagram has become very saturated, everyone uses it now, so that makes it much harder to grow than it used to. When I first started there were only a handful of prominent men's fashion and lifestyle bloggers. Today there are way too many to count. The best advice I can give is to post content you like, not content you think people will like, and interact with your audience and other content creators.
What was your favorite collaboration?
I'm always grateful when brands want to collaborate; it's exciting to photograph something new. Being able to work with Coach and Daniel Wellington was especially great as I use and wear their products daily. When working with brands, it's important to me to only accept collaborations from companies that I am familiar with and that my audience would be interested in. I turn down many brand collaborations for this reason.
Do you have any upcoming collaborations that you're excited about?
    As far as upcoming collaborations, I just photographed a couple over this past weekend. One is for a fragrance company called Phlur which allows you to try several fragrance samples before committing to a full size bottle, which is great. The other was for a sock company called Society Socks. They have cool designs and what's especially great is they donate a pair of socks for every pair purchased.
---
Samantha McClelland
How did you get started as an "influencer"?
I started my blog, 'The Brunette One,' in the summer of 2010. I was in the transition period from college graduate and young professional. I spent my summer applying for full-time jobs, writing my blog, and working part-time in the evenings. I wrote about everything under the sun. I wrote a few fashion posts that first summer and my love for fashion continued to grow. I continued to blog when I started my first job in October of 2010.
As the blogging landscape has changed, I went from writing about my favorite fashion trends to documenting my personal style. Eventually brands started paying attention to bloggers and social media influencers and wanted more well-rounded content to become 'lifestyle influencers'. I began documenting more areas of my personal life. In addition to personal style, I documented wedding planning, to buying and decorating our home and most recently, having a baby!
How much time do you put into writing a post/ posting a photo or video?
Depending on the content of the post, it could take a couple of hours to a couple of days. There is so much that can go into a post. Each post may include original styled photography, the editorial content, and then scheduling and writing the social media posts. I typically start brainstorming the photography shot list, getting props styled and photographed (weather/lighting dependent), editing the photos, and then I start writing the post. I go through multiple rounds of copy editing before scheduling the post to go live, along with scheduling or prepping the promotion of the post to my social media channels.
Was it easy getting started as an "influencer" while living in Iowa?
It was much easier to establish myself as an 'influencer' living in Iowa to brands when I first started because I was able to position my point of view a Midwest blogger. Many brands would have their pick of East Coast and West Coast bloggers and I would say at the time there was a bigger gap of reaching the Midwest Market. I was able to position myself to brands that just because I was located in the Midwest, I still had something to say in regards to personal style and the latest trends.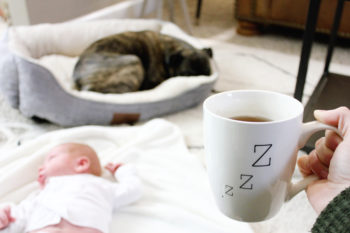 Do you have any advice for someone that might to become an "influencer"?
With the creation and popularity of social media channels like Instagram, the market is a lot more saturated with bloggers and influencers from across the country. If you truly want to become an influencer, you need to realize it will not happen overnight. It will take a lot of hard work behind the scenes.
Make sure you have your niche (do you love to cook, document your personal style, are you into fitness?) and build a genuine following and brand. The most important aspect of being an influencer is the community you're building and your engagement with your readers and/or followers.
Take time to educate yourself on the business side of blogging and social media. Take a photography class, learn how to track analytics, start pitching to brands. Don't be afraid of hearing 'no' from brands if you are going after a particular partnership, but also only work with and promote brands you truly use and love. Your following will know if you aren't being transparent are simply promoting a product for the money. Be authentic and never, ever buy followers.
Social media is always changing and Instagram could disappear overnight. Would your brand withstand the changing landscape? My overall advice would not to become an 'influencer' for monetary reasons, do it because you truly have something you want to say and an audience that wants to hear it and follow along.
What was your favorite collaboration?
In eight years I've had amazing opportunities with a plethora of brands. To date, I would say being able to work with Old Navy, H&M, traveling to WWDMAGIC in Las Vegas as one of their official bloggers for two seasons, along with being able to cover NYFW have been highlights for me.
With the arrival of my son, I'm anxious to start creating new content documenting the next chapter of our lives. I'll be working on pitching and working with brands that align with adding a child to our family; in addition to the home and fashion content I currently have on my site!