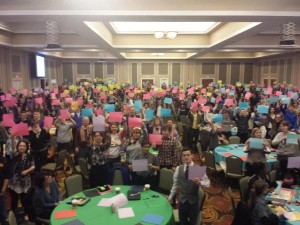 On April 3, Prairie Meadows hosted The 10th Annual Governor's Conference on LGBTQ Youth.
Nate Monson of Iowa Safe Schools coordinated the event. The event raised awareness and honored advocates of the LGBTQ community.
The mission was to educate and engage students, educators, and others in the community about promoting diversity and equality. Some speakers at this event included WWE Wrestling Superstar Darren Young, Drag Comedian Miss Coco Peru, and Jóhanna Sigurðardóttir, former Prime Minister of Iceland.
Students from all over Iowa, some high school and some college, came to the event. Before the events got on their way, Monson had the students individually write down why they thought an anti-bullying law should be passed. Then, a picture was taken and posted to Twitter of more than a thousand students showing why they think this law should be passed.
Iowa Safe Schools honored Senator Matt McCoy as Advocate of the Year and East High School Gay Straight Alliance as GSA of the year.
Young talked about his own life and how he was treated because he was different.  He is an important figure in the LGBTQ family because he was the first wrestler from WWE still on contract to come out as gay.
Miss Coco Peru sang and told jokes and stories based on how she was made fun of as a kid.
Former Prime Minister Sigurðardóttir was at the conference to talk about relations with the U.S. and said how we should be more aware of LGBTQ in this country.
During breaks, students had a chance to talk to different vendors at the event. Some of the vendors were DMACC, Iowa State University, Nationwide Insurance, and many others that were informing students about how they could help support students in the LGBTQ community.
There were workshops that students could attend to learn more about what they wanted to know, including civil rights, student athletes, and transgender youth.