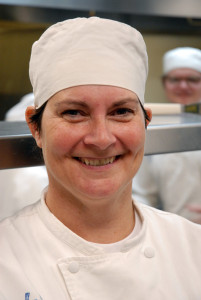 By Avis Allen.
The time has come for sweatshirts, flannel pajamas, football, and glorious comfort food. Close your eyes and think of home, wherever that may be.
I am the youngest of thirteen children. We all know how to cook, but there is absolutely nothing that compares to my Mother's mostocolli, Dad's chili, the Aunts' fudge and cakes, or my Grandmother's strawberry shortcake with whipped cream straight from the cow.
My parents and grandparents are gone now, but the memories are there. The visions of family gathered around the dining room table, yard, picnic tables, or the bonfire are dear to my heart as we say goodbye to summer and hello to the crisp air of fall.
The boys of the family were all being rotten and into something, usually the desserts that were sitting and waiting to cool by the windows as the elders were getting the tables and little children ready to eat. The few girls were sitting patiently for our turn at learning how to make the wonderful food. Unfortunately, we did more dishes than cooking.
One person's comfort food is different than another's comfort food.  When I think of comfort food, it's fried chicken, chicken and noodles with mashed potatoes, chili cheese dogs with the ultimate works (what we affectionately call garbage), snapping turtle soup, biscuits, pies, cookies, fudge, vegetables, rabbit, squirrel, and chili. These always bring me back home to Indiana/Illinois.
Comfort food seems to range with what you grew up eating, where you grew up, and usually what your mom or grandma cooked. I have come to learn that there is more to comfort food than the food. I guess I always knew, but really never gave it much thought.
I started college as an adult with two children, one grown and one still in elementary.  So, to all of you who are away from home, I give you my deepest sympathies at this time of year. The holidays are fast approaching and homesickness can sneak up on you.
Don't fret. Just give that special person whose cooking makes you weak in the knees a call. Maybe, just maybe, they can bring it to you. At the very least they can give you the recipe, and if you need help making it you can visit Building 7 and I will help you make it if you can't.
If all else fails, go to a friend's house and maybe their special cook can make something to curb your appetite until you can get to where you need to go.
We all need comfort as human beings. Food, being sustenance, is a delightful double up in this regard.