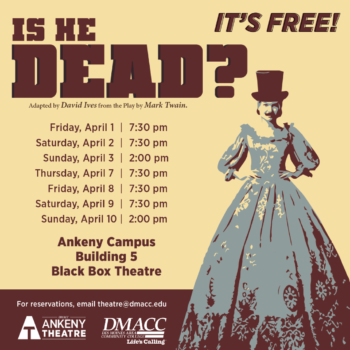 The DMACC Ankeny Theatre department will be performing "Is He Dead," adapted from Mark Twain, starting April 1 in the Black Box Theatre in Building 5.
Originally adapted by David Ives, "Is He Dead" is a lighthearted comedy about Jean-Francois Millet, a French painter who realizes that he would gain more fame and money if he faked his death, as painters get famous after they die. After faking his death with the help of his loyal followers, he returns while pretending to be his own sister to sell his paintings and pay off his debts. Throughout this ordeal, he is also trying to win back the love of his life, Marie.
Susanna Douthit directed the play. Douthit is a local theatre artist and costume designer with the Des Moines Young Artists' Theatre. She is also designing the costumes for the production and has designed costumes for previous DMACC productions.
This play is being performed from April 1 to April 10, with performances starting at 7:30 p.m. on Thursday, Fridays, and Saturdays, and 2 p.m. on Sundays. The runtime for the play is about two hours with a 15-minute intermission. Entry is free and masks are available.