By Alex Payne
STDs and AIDs are on the rise; DMACC is helping students from contracting these deadly diseases.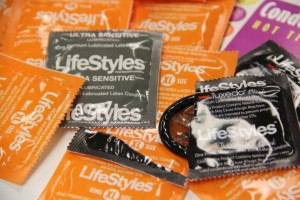 One of the most prominent ways DMACC is helping students stay protected is by offering condoms. Condoms are provided free of charge for all DMACC students in Campus Health Specialist Sandy Foster's office in Building 24, room 103.
Foster offers many brochures along with a variety of condoms in a black box sitting on a table inside the office.
Students can also stop by the office of Psychology professor Ronn Newby in Building 2, room 6A. Newby has a box with thousands of condoms varying in different sizes for students.
"If they need them, I have them," Newby said.
Newby gets his supply from the Iowa Department of Public Health. Newby most recently worked for the Iowa Department of Public Health reviewing HIV and AIDs brochures.
"Just practice safe sex and know who you are sleeping with," Newby said. "Did I mention know who you are sleeping with?"
But if students want to get tested, DMACC brings in Venus Family Planning once a month to allow students to get tested. The next planned visit is April 10 from 1p.m. – 4 p.m.
If students are interested in getting tested they should contact Foster in her office or at (515) 964-6352. Foster recommends reservations up to the day before, but might be able to fit someone in the day of.
Testing is free for students if they meet certain financial qualifications. If they make more than the financial level to get free testing, it is run almost like a sliding scale according to Foster.
All results are confidential and Foster does not hold on to them. According to Foster, Venus and DMACC are working out a contract for next year to provide this service.
Next year would be the third year for Venus to provide testing on campus. Usually two to six students get tested a month on campus. If the times for the testing on campus do not work for students, they are able to go to Venus Family Planning's office at 1200 University Ave #100, Des Moines.
With Chlamydia, Gonorrhea and Syphilis cases in Iowa jumping 550 cases between 2010 and 2011 STDs are becoming a major problem. AIDs itself was up 5 percent between 2010 and 2011.