There is not much better on a cold winter day than to walk into a warm house with the smell of chili wafting through the air. And at less than $15 for a huge pot of goodness that will fill your stomach and your soul, chili qualifies itself as not only a cold weather staple, but also a tasty cheap eat.
The key to the perfect pot of chili is the seasoning, and Carroll Shelby's Texas Chili Kit delivers a terrific blend of spice and heat that reminds me of my mom's delicious chili. This kit also makes creating your chili easy, which is a bonus.
RECIPE:
| | |
| --- | --- |
| INGREDIENT | COST |
| Seasoning | $3.00 |
| Ground Turkey | $4.00 |
| Onion | $1.00 |
| Diced Tomatoes (28 oz. can) | $1.60 / can (need 2 cans) |
| Dark Kidney beans | $1.20 |
| Light Kidney beans | $1.20 |
| TOTAL | $13.60 |
For your chili, begin by placing a large pot on your burner over medium heat.
Pour two tablespoons Canola oil into the bottom of the pot adding one yellow onion chopped into small pieces. Cook the onion until it is soft and translucent (about five minutes).
Once the onions are cooked, add one pound ground beef or ground turkey. Periodically stir your ground meat and crumble it into small pieces.
While the meat is cooking, open your two cans of beans and either drain the liquid from the can, or pour the beans into a strainer and rinse the liquid off.
When the meat is browned, add your two cans of beans and 2 cans of diced tomatoes to the mix.
From your chili kit, add the entire package of seasoning mix, half the salt, and half the cayenne pepper. This will give your chili some heat, but won't make it too spicy. Hold onto the rest of the salt and cayenne pepper to add more later if desired. Also hold onto the flour packet in case you want to thicken your chili.
Combine the meat, beans, tomatoes, and seasonings until thoroughly mixed. Turn the burner to low heat, put the lid on the chili and let simmer for about an hour. (The longer chili sits and simmers, the better it tastes.)
Make sure to stir your chili every 10-15 minutes so it does not stick to the bottom of your pot and burn.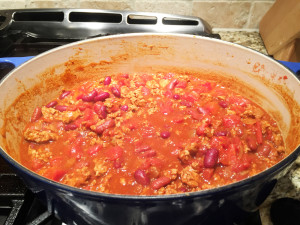 After an hour, taste your chili to see if it needs some more salt or cayenne pepper. Also if the chili is thinner than you like, add half the package of flour to the mix and let simmer ten minutes longer.
TASTY VARIATIONS
Your bowl of chili can be enjoyed by itself or try one of these tasty variations.
1) Winter Eggs – Scramble two eggs. Put your eggs on a plate and add one scoop of warmed chili. This breakfast will keep you going through your morning classes.
2) Cook a batch of rice. Add one scoop of rice to the bottom of your bowl. Pour one cup of your warm chili over the top. Not only is this an easy way to make your chili last longer, but it also tastes great.
3) For $0.50, a box of corn muffins is a great accompaniment to your tasty meal. Make those muffins as directed on the back of the box. Then crumble the muffin into your chili for a slightly sweetened treat.
4) To make enchiladas microwave corn tortillas to slightly warm them (30 seconds to one minute). This will make the tortillas easier to bend. Place one scoop of chili and some cheddar cheese in the corn tortilla and roll up. Place these in a baking dish. Continue rolling enchiladas until the pan is full. Open a can of enchilada sauce and pour that over your enchiladas. Add some more cheddar cheese to the top and place in a 350 degree oven until the cheese begins bubbling (about 30 minutes).
5) Spread tortilla chips over a plate and top with cheddar cheese. Microwave the chips and cheese until the cheese is melted (about one minute). Pour chili over the top and enjoy some easy and delicious nachos.
You can also put this chili in a freezer bag (fill it 2/3 of the way) and place in your freezer to eat later.
No matter how you serve it, this simple, delicious, cheap eat will keep you warm and satisfied for these last few weeks of winter.