The Campus Town apartments have struck up controversy through fine threats, new security policies, and excessive littering.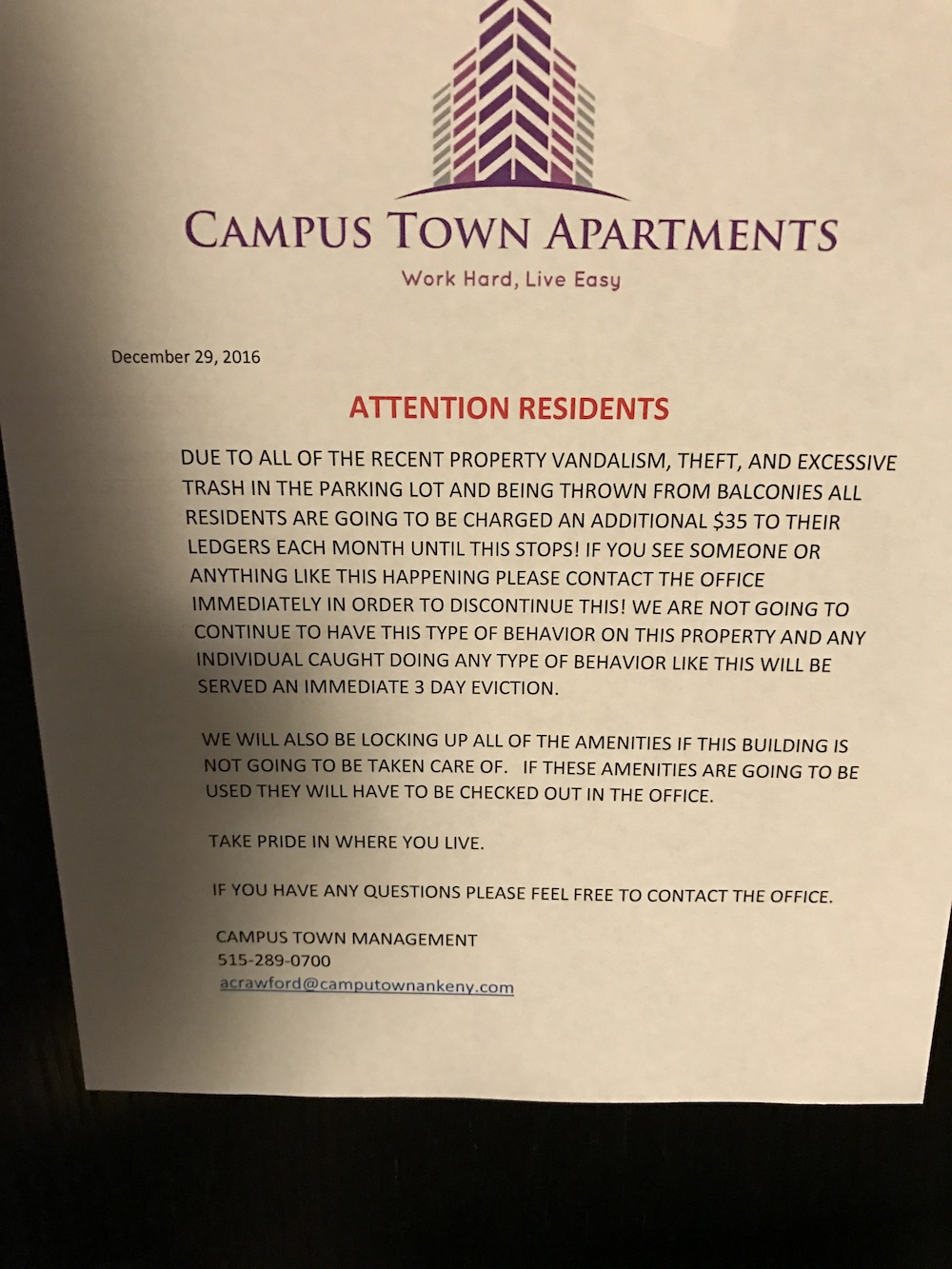 The Campus Town Apartments is a housing building across from the DMACC Ankeny campus. The majority of the tenants are college students that attend DMACC.
The management at Campus Town threatened in a poster to charge the account of all tenants for violations caused by only some of the people living there.
The flyer read, "Due to all of the recent property vandalism, theft, and excessive trash in the parking lot and being thrown from the balconies all residents are going to be charged an additional $35 to their ledgers each month until this stops!"
Later the management took down the signs and did not follow through with the fines.
DMACC student and Campus Town resident "Sarah," whose identity has been changed for this story, describes the apartments in both positive and negative light.
"On one hand, the facility is super nice and rent is pretty cheap. On the other hand, the management kind of sucks. They're always trying to add on different fines and stipulations," Sarah said.
Despite the fairly positive review of the apartments she did add that she would not recommend them.
On Google Reviews, the apartments received one and a half out of five stars.
A reviewer under the name Michael Ethan wrote an online review: "It's always ridiculously dirty here, whether it's cigarette butts, trash, & broken glass bottles in the parking lot. People constantly just throw trash off their balconies, so never park below them or your vehicle will eventually end up with something gross on it."
Ethan also wrote, "These are cheaper than cheap, anything from the door handles on multiple units I've been in pretty much falling off, to the cupboard doors warping from normal usage."
A reviewer under the name Jordan Huisman also wrote, "If you like entertainment, this is your place. In 6 weeks here, the cops have shown up on countless occasions. It's always fun to witness an arrest, right?"
Amanda Crawford, a manager from Campus Town Apartments, said that the maintenance issues simply may have not been brought up.
"Any maintenance issue that is brought to our attention by the student or cosigners, we have a strict 24-hour turnaround policy with maintenance."
Students cannot get their mail at the apartments either.
"As far as the post office I wish I had more information on this, but all I know is that the post office refuses to deliver mail here. My hope is that they can resolve this soon, as I can imagine the inconvenience this causes to anyone," Crawford added.
Amanda and the management also had some complaints about the tenant's behaviors.
"Some instances of things students shouldn't be doing would be vandalizing the property, littering (throwing bags of trash off their balcony) underage drinking parties, smoking on their balconies, violating guest policies, fighting and there are more items listed in our rules and regulations that are also signed by the student," Crawford said.
"These rules are put in place to make this a great place for everyone to live and again we take pride in making Campus Town Apartments that way," Crawford added.