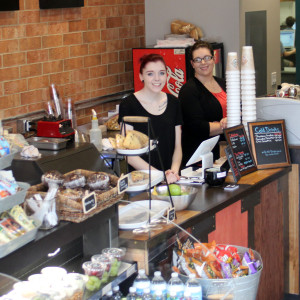 Café Diem has continued to fulfill its goal of being a more community-based business by moving its offspring business into the middle of campus.
Campus Grounds has moved from Building 3W to a more centralized, permanent location in Building 6.
Campus Grounds provides a lot of drinks for the students as well as some little things to makes lives easier for the students.
For one, they make sure to include tax in their price so students can pay with a crisp five dollar bill without having to worry about being a few cents short.
Sara Volkmann, the co-owner of both Campus Grounds and Café Diem explained that at Campus Grounds the price is lower and there are also more grab and go products since the students are typically in a rush when on campus.
But why have a coffee shop on campus and across the street? Why not change Campus Grounds to a different kind of shop?
"What student doesn't like coffee?," Volkmann said.
She also said that it is good for students to have a coffee shop on campus since students wouldn't have to give up a good parking spot or really even need a car to go to their coffee shop.
Katelyn Swanson, a student majoring in Liberal Arts from Milburn said, "It gives a new variety and an open theme."
She said the high demand for coffee coupled with the location was a very good idea.
"It feels more natural for it to have its own spot," said Lisa Bransfield, psychology major from Lake Mells.
Volkmann said her favorite drink, and the one she would recommend, was "Christmas in a cup" or as the menu calls it, Chai.
The Chai recipe is a secret, but is what Café Diem is known for and Volkmann is hoping soon Campus Grounds will follow in Café Diem's steps.
The coffee shop provides a large variety of smoothies, coffees, and teas with their choice of flavors for the coffee drinks. Sara is also very open to new suggestions of drinks and typically changes some of the drinks from semester to semester.
Campus Grounds is also now planning to be open longer next semester so that people both at 7:30 in the morning and late at night, or at least past the current 2:00 p.m. closing, can enjoy their products.
Campus Grounds is also starting to hire DMACC students for a close-by job that has a starting pay of $8 an hour.