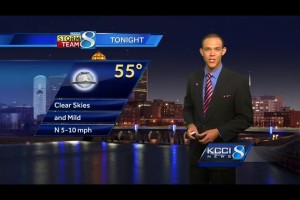 Most people complain about when they have to get up at 6 a.m.
Try 1:30 a.m.
As one of Iowa's youngest meteorologists, Frank Scaglione has to get up that early to go to work, but that does not mean that he is wanting to.
"Obviously that's a lot hard for a lot of people to be up that early, especially me; I'm not a morning person," Scaglione says.
He says that if his day starts with an early morning he has to be at the station usually two hours before the newscast starts, so for a show that starts at 2:30 a.m. When he gets in that morning he automatically starts preparing graphics, forecast, and looking at the weather models all while getting ready for the 4:30 a.m. start time.
Just like his mornings, Scaglione went the early route with college classes since he was a DMACC student while he was a high school student back in 2008.
He never went to DMACC for any of his meteorology studies. He went to DMACC strictly for Criminal Justice.
He has been working at KCCI since 2009 while he was still in high school so getting his meteorology degree was not really on his mind. Since he was still in high school at that point.
After he graduated from high school, he studied business at AIB where he earned a bachelor's degree in business. While he was a junior at AIB he started studying for his meteorology degree and is currently attending Mississippi State University for his meteorology degree.
"I haven't actually graduated with my degree in meteorology," Scaglione says, "but it's in the works."
When Scaglione was 13, he met John McLaughlin at the Ankeny airport where they met when John was a helicopter pilot.
"He taught me so much; I feel like I have a weather degree now since I've been able to know John because he's so knowledgeable about meteorology," Scaglione says.
For Scaglione, his favorite activities involving the weather are chasing storms and studying about the weather.
He says though for others wishing to go into meteorology the "need to knows" are how to be a good speaker in public, know how to act on camera, and also you need to have a science background.
That is also the difference between broadcasting and broadcast meteorology broadcasting, "since those people are more journalist than scientist," Scaglione says.
"We have to know how to perform well and how to be a journalist, but also have to have the science background and so it's a lot different."
He is always interested in learning something new.
"I think my favorite part is learning something new all the time, studying the weather, storm chasing, the other piece that I haven't mentioned yet, that I do enjoy is community outreach," Scaglione says.
" I like talking to kids in school, all the way from elementary school all the way through high school about the weather and even through some of my own experiences really just trying to make an impact on their lives even somebody that's young and just a few years older than them can do things that are really neat and exciting and fun."
Scaglione says that broadcast meteorology isn't going to go away as everything goes more and more online in the future, if anything its going to get better.
Until then you can watch Scaglione on KCCI Channel 8.